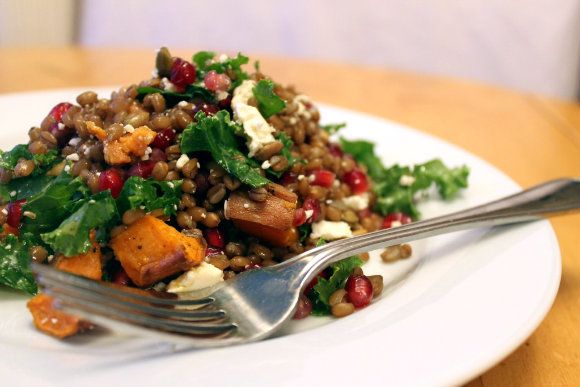 I know I'm lucky to live in the interior of BC where the temperatures don't really get that low.  But, I'm a wimp and -5 celsius, to me, is freaking cold!  Going outside is quite the task because I, literally, have to bundle up.  I'm talking long johns here folks and scarves that reach up and cover my little nose so you can only see my eyes poking out from the top.  I can only imagine what people are saying right now reading this from up North.  I know, I know.  Full out wimp. But, I'm ok with it.  I take pride in plopping myself in the kitchen and setting the stove to 350F with the oven door open.  This may or may not come to a surprise to my boyfriend….I was caught the other day setting the bedroom thermostat to 30 degrees.  Slightly as a joke, slightly not.  I'm not sure how funny he found it.
So, you're wondering why would I want a salad?  Well, that's a good point.  But, you see, this salad is a warm salad.  Well technically you can eat it cold too, but I'm pretty sure we know why my vote is for the warm one.  With roasted yams, toasted pumpkin seeds, and hearty wheat berries, this salad brings a depth of flavour that warms you from the inside out.
Wheat berries are nutritional powerhouses and are actually not a berry, but are the seeds from wheat.  Did you know that white and whole wheat flour comes from wheat berries that have been processed?  Wheat has 4 components – the hull (the outermost layer of the grain which is inedible), the bran, the germ and the endosperm.  The bran and the germ are the most nutritious parts containing most of the vitamins and minerals and 97 percent of the fiber.  The endosperm is the starchy part of wheat and is the main component you would find in white flour (that along with chemicals to bleach the flour, but that's a whole other post!) Wheat berries have only had the inedible portion removed and contain the bran, the germ, and the endosperm keeping all the nutritional components in tact just as nature intended it to be.
Why I love wheat berries:
1. They have a nutty flavour and are slightly chewy lending a great texture to side dishes, salads, and stirfries.
2. They have 5 grams of fibre per 1/4 cup.  You don't need to focus on the numbers here but just know that these are an exceptional choice for sustained energy throughout the day and a great addition to your diet if you are trying to lose weight.
3. You can cook extra and freeze it without losing the texture. When ready to use, just unthaw or toss it into soups or stews from frozen.  Simplicity is my favourite.
Now, don't fret that this recipe contains pomegranate.  I've put together a little visual to help guide you through an easy and painless way to seed a pomegranate without wanting to throw your hands in the air yelling "I give up!"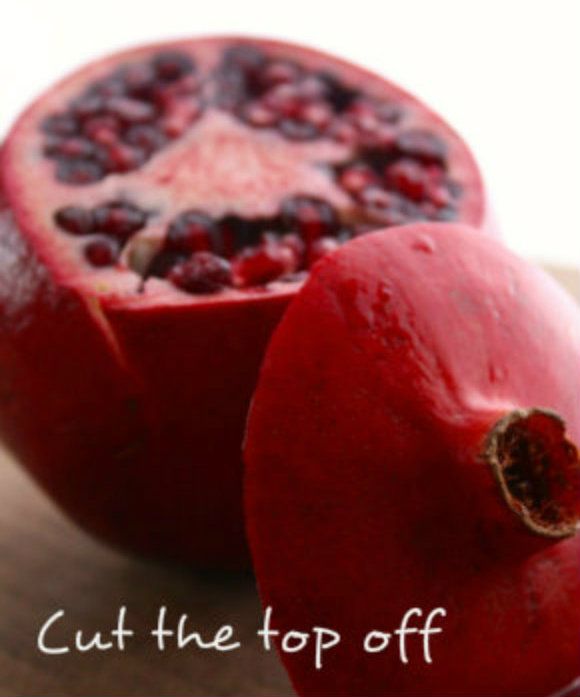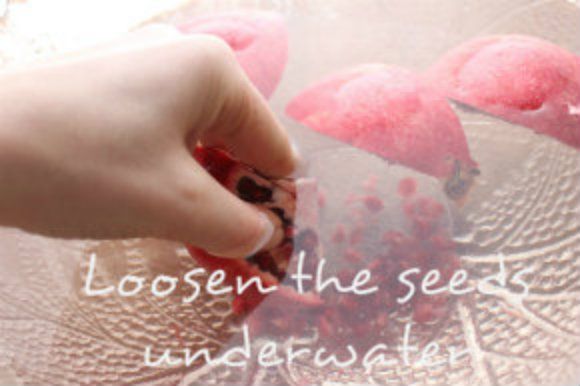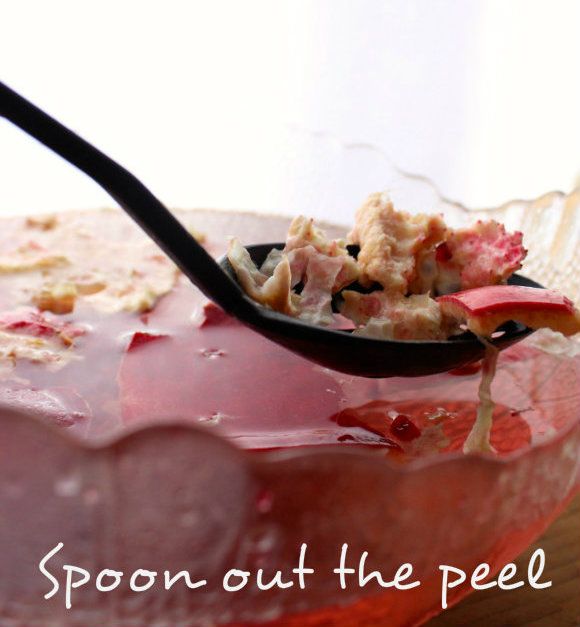 Warm winter wheat berry salad
Ingredients
Salad
1 cup coarse grind buckwheat
2 cups water or homemade veg/chicken broth
1 pomegranate
1 medium yam (orange fleshy kind), diced
¼ pumpkin seeds
2 leaves of kale, torn into bite size pieces
⅓ cup feta cheese (optional)
Dressing
¼ cup extra virgin olive oil
2 tablespoons apple cider vinegar
2 tablespoons maple syrup
1 heaping tablespoon dijon mustard
10 cranks black pepper
scant ¼ teaspoon salt
Directions
Preheat the oven to 350F. Put the buckwheat and the water/broth in pot. Bring to a boil, then simmer with lid on for 15-20 minutes until soft, stirring occasionally.
Put the diced yam on a roasting pan, toss with some oil, and roast in the oven for 30 minutes, tossing half way through.
Toast the pumpkin seeds in a dry pan on the stovetop, set on medium. Once you smell the aroma of the seeds, they're done. About 5 minutes.
Seed your pomegranate.
Throw all the dressing ingredients in a jar, top with a lid, and shake.
In a bowl, arrange the salad. Put in the buckwheat, yam, pomegranate, kale, and top with feta (if desired) and pumpkin seeds. Serve warm (or cold) and top with desired amount of dressing.